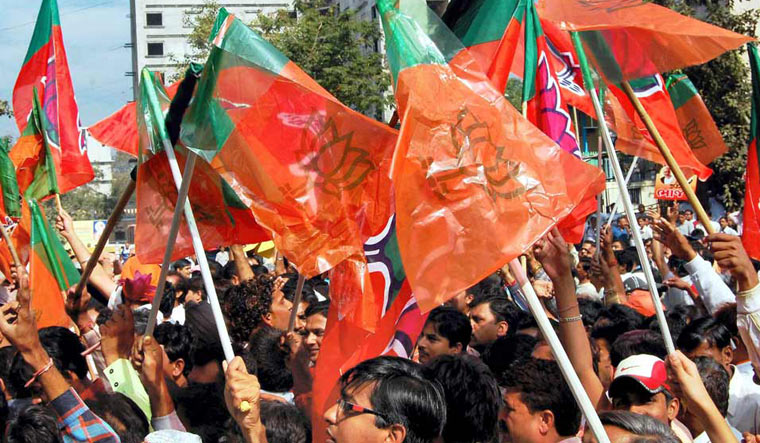 Even as BJP president Amit Shah wrote a letter to the Law Commission on Monday arguing for simultaneous Lok Sabha and assembly polls, party sources have indicated that the Narendra Modi government could push to 'club' assembly elections in up to 11 states with the Parliament polls in 2019.
Party sources told PTI that the BJP is mulling delaying assembly elections in three states—Madhya Pradesh, Rajasthan, and Chhattisgarh—that are currently ruled by it and advancing the same in several other states.
Assembly elections in Madhya Pradesh, Rajasthan and Chhattisgarh are due by November-December this year. The tenure of the Assembly in Mizoram, ruled by the opposition Congress, is also scheduled to end in the same time frame.
The last Lok Sabha elections coincided with state elections in Andhra Pradesh, Odisha and Telangana and this precedent is expected to continue in 2019. The BJP is mulling advancing elections in Haryana, Jharkhand and Maharashtra—again three states ruled by the saffron party—to hold them alongside the Lok Sabha polls.
However, the 'surprise' entry among the list of states that the BJP is considering advancing elections in is Bihar, which last had an assembly election in late 2015. While the JD(U) has publicly dismissed claims of polls being advanced, political observers claim early elections may suit Chief Minister Nitish Kumar as he bargains for more seats in the assembly with the BJP, his partner. The BJP had won the largest number of seats in the last Lok Sabha election in Bihar.
The BJP sources however told PTI that the party has yet to make a concrete proposal for deferring/advancing the state polls given the need to ensure the constitutional validity of such a step.
Given the need to impose governor's rule in states when elections are deferred, the BJP may face political opposition. Former Lok Sabha secretary general P.D.T. Acharya questioned the legal validity of the BJP's proposal, given the need for governor's rule, which can only be imposed in the event of a breakdown of the constitutional machinery.
Courtesy: The Week