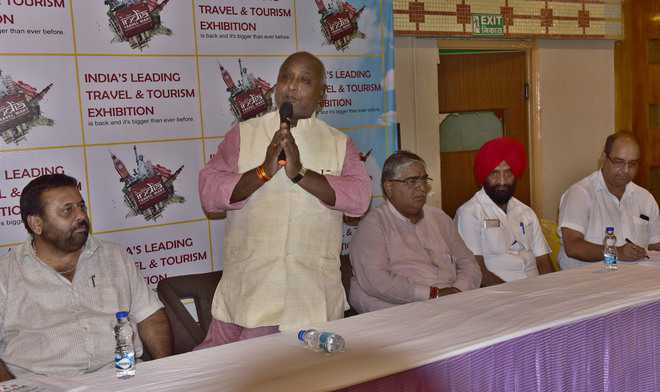 Ludhiana: "Doors of several industrial units in Punjab will face closure if workers from Bihar don't come and work in Punjab," said Bihar Tourism Minister Pramod Kumar. He was here to inaugurate a three-day tourism event – India Travel Mart – at a local hotel on Friday.
He said, "Workers from Bihar don't come to Punjab and other states because of poverty, but because they are 'skilled'. This is why they are a successful workforce throughout the country." "Just the way 'Sardars' have made a mark across the world with their hard work, so has Bihar, across the country and abroad with skilled Biharis," he said.
Speaking about development of tourism in the country, he said, "The Centre must provide some kind of incentives to the middle class to travel. It could be a tax rebate as travelling takes away stress which will not only make people more knowledgeable and aware of different cultures and places, but also improve their health."
He said there was a great tourism potential in Bihar because it was the centre of all religions in the country and outside. He said, "Patna Sahib, the birth place of Guru Gobind Singh, is a very sacred place for Sikhs. Bodh Gaya is a must visit for Buddhists and several centres, including Vaishali, are of pivotal importance for Jainism," he said.
He said during the 350th birth anniversary celebrations of Guru Gobind Singh, Bihar hosted Sikhs and Punjabis not just from Punjab, but other parts of the world also. "We still would welcome every Sikh pilgrim with the same 'atithi devo bhava' sentiment," he added.
Courtesy: The Tribune