Clear air on NDA seats soon, says Chirag Paswan
2 min read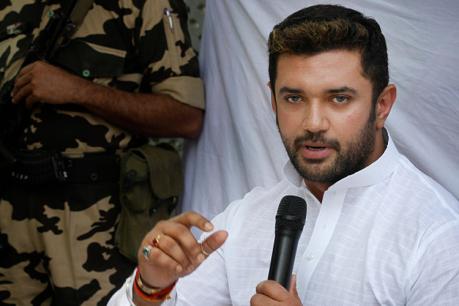 PATNA: The claims and counterclaims among the NDA constituents in Bihar over who will be their face in the 2019 general election continued on the third consecutive day on Tuesday with LJP chief Ram Vilas Paswan's son and Jamui MP Chirag Paswan saying "there is no confusion in the ruling alliance with regard to who is going to be the face of the coalition".
He said the next Lok Sabha polls would be contested under the leadership of Prime Minister Narendra Modi but it would be better if the NDA constituents took a decision on seat-sharing soon.
"There is no doubt that the NDA will fight the next general election under PM Modi's leadership and assembly elections in Bihar under the leadership of JD(U) president Nitish Kumar," Chirag told reporters at Sheikhpura.
On being asked about the ongoing politics over NDA face, Chirag said: "It depends upon the visibility of the party. I think Sushil Kumar Modi (BJP functionary and Bihar deputy CM) and Ram Vilas Paswan ji can also be the face of the coalition."
When asked about seat-sharing, Chirag said: "The NDA constituents (BJP, JD(U), LJP and RLSP) will discuss it. A meeting of NDA constituents is already slated in Patna on June 7."
The issue was highlighted after JD(U), after a high-level meeting of the party on Sunday, announced Nitish as the face of NDA in Bihar. Later, Sushil Modi seconded the JD(U)'s claim and said PM Modi is the NDA face at the Centre and Nitish in Bihar.
BJP functionary and state health minister Mangal Pandey said Nitish is their "elder brother", but PM Modi was the elder brother of Bihar CM.
JD(U) had contested 25 seats and BJP 15 when they last fought together the 2009 general election. JD(U) walked out of NDA in 2013 and won only two Lok Sabha seats in the 2014 Lok Sabha election.
"When the JD(U) is referred to as 'the big brother in Bihar', it refers to the fact that the party won more seats in alliance with the BJP in the past. JD(U) has more MLAs than the BJP," JD(U) spokesman Ajay Alok said and admitted that the NDA would contest the Lok Sabha election obviously under PM Modi's leadership. "But the performance of Nitish will play a decisive role in the electoral battle in Bihar," he said and demanded respectful share in seats for the next general election.
The JD(U) is pitching for a seat-sharing arrangement based on its MLAs compared to that of the BJP.
Courtesy: TNN