JD(U) slams Congress for favouring special status for Bihar, says 'big parties' forget commitments after coming to power
2 min read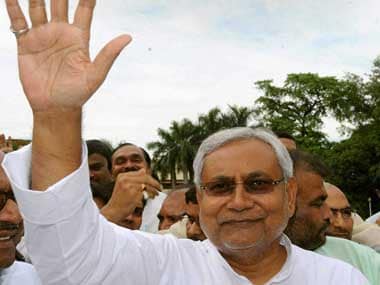 Patna: A day after the Congress came out in support of Chief Minister Nitish Kumar's demand for grant of special status to Bihar, an unimpressed Janata Dal (United) on Friday asked why the national party had failed to do the needful when they were in power at the Centre for a decade.
AICC in-charge for Bihar Shaktisinh Gohil had on Thursday criticised Prime Minister Narendra Modi for ignoring the demand raised by Kumar for granting special category status to Bihar at a meeting of the Niti Ayog in New Delhi earlier this week.
Gohil had said that he was personally in favour of special status and special package for Bihar and that if voted to power, the Congress would extend all possible help to the poor and densely-populated state which suffers droughts and floods every year.
After disintegration of Grant Alliance in Bihar in 2017, while JD(U) joined hands with BJP to form a coalition government, rest two — RJD and Congress — are together in the Opposition camp.
"The Congress was in power (at the Centre) from 2004 to 2014. Why did it not then take any step in the direction of granting special status to Bihar? Nitish Kumar has been raising the demand since even before he became the chief minister in 2005. He has been raising the demand more forcefully after assuming power in the state, "JD(U) spokesman Ajay Alok said in reply to Gohil's assertions.
In another remark, that seemed to target both the Congress and the BJP (with which the JD(U) is currently allied in the state), Alok said there is a strange thing about big parties; they promise special status while out of power but once they form a government, they forget their commitment.
Meanwhile, former chief minister Jitan Ram Manjhi blamed Kumar for Bihar not getting a special category status after Jharkhand was carved out of it with its mineral-rich southern region.
When the then chief minister Rabri Devi had sent a request to the then Prime Minister Atal Bihari Vajpayee for grant of special status to Bihar, the latter had set up a committee headed by Kumar who was a Union minister at that time to look into the issue, Manjhi claimed.
The committee did not hold even a single meeting and Kumar, since he was not in power in the state at that time, did not find the idea politically profitable and chose to drag his feet till the Vajpayee government lost power, Manjhi who was a minister in the Rabri Devi government at that time alleged.
Today, Nitish Kumar is simply venting his frustration with the BJP by raking up the issue of special status as he knows he does not have the clout to extract such a concession from the BJP, the Hindustani Awam Morcha (HAM) president, who walked out of NDA to join hands with Lalu Prasad's RJD recently, said.
Courtesy: PTI