'Rakshas Raj in Bihar as Sita is kidnapped daily, Duryodhan doing chirharan'
3 min read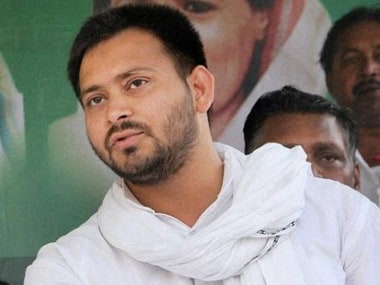 New Delhi: Rashtriya Janata Dal (RJD) leader Tejashwi Yadav on Saturday launched a scathing attack on the Nitish Kumar-led government in Bihar saying women are not safe in the state. Yadav also accused Nitish of going soft on Brajesh Thakur, the prime accused in the Muzaffarpur shelter home case.
A sit-in protest followed by a candle march was held in the national capital on Saturday wherein most of the Opposition parties including Congress, Aam Aadmi Party (AAP), RJD, Communist Party of India, among others took part.
Those present included Congress president Rahul Gandhi, Delhi Chief Minister Arvind Kejriwal, MPs including Tejashwi's sister Misa Bharti and D Raja, Bihar's former chief minister Jitan Ram Manjhi and CPM general secretary Sitaram Yechury, former MP Sharad Yadav and others.
The nation-wide one day protest was against the deteriorating law and order situation in Bihar.
The Muzaffarpur shelter home was run by Brajesh Thakur. On July 24, 11 employees of the girls shelter home were arrested for allegedly sexually harassing the inmates. On receiving information, the police raided the vicinity and rescued 44 girls. The case surfaced in the wake of an audit report of the Mumbai based Tata Institute of Social Sciences in April.
In an exclusive interview to ANI, Tejaswi Yadav said, "In Bihar, we have a double engine government (Bharatiya Janata Party and Janata Dal-United). Currently, we have 'rakshas raj' in Bihar. Daily Sita is being kidnapped by Ravan and daily Duryodhan is doing 'chirharan' of Draupadi. Still, they keep saying that law and order are okay in the state. The engine of this Bihar government is committed to crime and corruption."
"The Bihar government did not take any action despite the Tata Institute of Social Sciences' report getting released a long time back. The main accused, Brajesh Thakur, was nowhere mentioned in the FIR. Even his name was not mentioned in the FIR registered by the Department of Social Welfare. Brajesh Thakur has remained close to (Bihar Chief Minister) Nitish Kumar. Few ministers are also involved in the case," Yadav said while accusing the Bihar Chief Minister of going soft on Brajesh Thakur. He also expressed concern over the safety of the witnesses in the case.
"The girl, who had full knowledge of this case, has been moved to the Madhubani shelter home. Nobody knows where that girl is. Is she dead? Did somebody kill her? Or is she absconding? The shelter home where that girl was shifted is run by Bihar Chief Minister's party's leader Sanjay Jha's personal assistant.They are now trying to divert this case. They have destroyed the system. Till the time, people like them will be in power, people will be helpless and criminals will go out of hand," Yadav said.
He further went on to quote several other instances of alleged rape and sexual violence. "In Gaya district, a man's wife and daughter were raped in front of him. This has never happened before in Bihar. Some days back, boys were also gang-raped in Bihar. They were mainly Dalit boys, who were coming back after protesting against the SC/ST Act," he added.
"The candle march being done by us at Jantar Mantar is regarding the security of women. We want Brajesh Thakur to be hanged till death. There have been back-to-back rape cases noticed in different districts in Bihar. FIR was registered two months late to destroy the evidence. The Chief Minister of Bihar has remained silent since last three months while all this was happening," Yadav said.
Courtesy: ANI