Sex crimes surge earns CM Nitish Opposition criticism
3 min read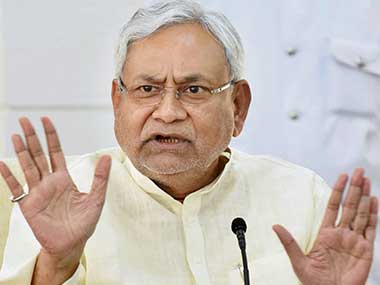 Patna: The policy of "good governance" is considered the USP of chief minister Nitish Kumar. According to political pundits, it was his image as "Sushasan Babu" that he was asked to lead the grand secular alliance in 2015 Assembly elections by RJD chief Lalu Yadav despite having political differences with him and the Congress.
However, his government has come under attack recently from Opposition parties for the rising crime graph in the state. Some incidents of molestation and sexual assault not only raised a question mark on the law and order scenario but also made Nitish Kumar's detractors invoking the fear of return of the "jungle raj" in Bihar.
The Opposition parties even sought the intervention of governor Satyapal Malik. The rival leaders highlighted a recent statement made by the governor in which he had advised girl students to approach the officials at Raj Bhawan in case they faced sexual harassment.
According to former deputy chief minister Tejashwi Yadav, "The crime graph has gone up as the good governance policy of chief minister Nitish Kumar has failed. The governor intervened and made an appeal because he knows about the prevailing situation in Bihar. The law and order is at an all-time low."
The state government and other JD(U) leaders, however, rejected the charges. They said that the claims of rising crime graph were only a perception being created by the Opposition parties.
According to a study conducted by the Asian Development Research Institute (ADRI), the crime figures have gone down in Bihar after the imposition of ban on liquor and people are now living in better conditions.
The figures released by the ADRI earlier this month show 66.6 per cent dip in cases of kidnapping followed by 28.3 per cent dip in cases related to murder and 2.3 per cent in dacoity.
However, Bihar police data indicates that around 23,6037 cognizable cases of crime were registered in 2017. Till February this year, as many as 35,522 offences were reported in Bihar while 289 cases of rape were registered till March. In 2017, as many as 1,198 cases were registered whereas 1,008 cases of rape were reported in 2016.
"Criminal activities have increased after Nitish Kumar formed a government with BJP. The chief minister has been silent on the issue as NDA is in power and he cannot blame his allies for the situation," Tejashwi Yadav said.
The RJD leader, who served as deputy chief minister for 20 months, and other Opposition leaders have accused the chief minister of failure in providing a safe environment to women.
The latest to trigger a controversy was an incident in which a 15-year-old girl and her mother were raped by a group of men in Gaya district early this month. According to the police, a group of armed criminals tied a man to a tree and raped his wife and daughter.
Another spine-chilling incident which exposed the failure of the state government was a rape of around 15 minor girls at a shelter home in Muzaffarpur. The girls in their statement to the police said that they were injected with sedatives before being raped.
A police enquiry found officials of the shelter home to be involved in the crime.
Courtesy: The Asian Age