Sexual abuse rampant in 15 Bihar shelter homes: Report
2 min read
PATNA: The infamous shelter home at Muzaffarpur where 34 inmates were raped is not the only one in Bihar where sexual, mental and physical abuse was rampant.

Tata Institute of Social Sciences (TISS), whose social audit report revealed the Muzaffarpur horror story and led to the arrest of kingpin Brajesh Thakur, has identified 14 other such shelter homes across the state.
Underage inmates were reported to be pregnant in some of these shelter homes "and some even had babies". TOI is in possession of the 100-page TISS report, which audited 110 shelter and short stay homes across 35 districts. Sources said the government is likely to make the report public soon.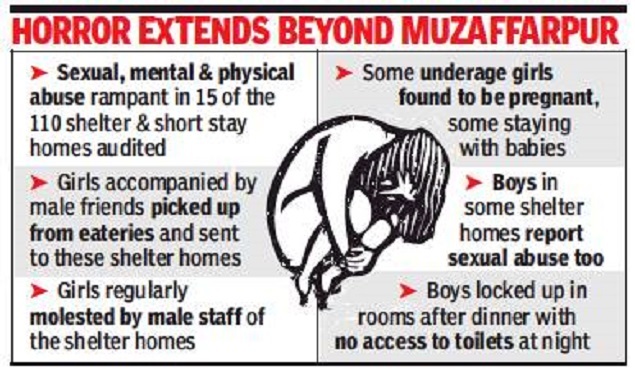 The TISS report elaborates on sexual and physical abuse in 15 centres, including the one run by Thakur, in a separate section titled "Grave Concerns — Institutions Requiring Immediate Attention".
On Thakur's shelter home, run by his NGO Seva Sankalp Evam Vikas Samiti, the report says: "The institution was exclusive in carrying out sexual violence on girls, all of tender age and from marginalised backgrounds, in the name of punishment and discipline. The girls said they were molested by the male staff regularly."
Among the 15 notorious institutions are short stay homes run in Patna by AIKARD, Motihari (Sakhi), Kaimur (Gram Swaraj Sewa Sansthan), Madhepura (Mahila Chetna Vikas Mandal) and Munger (Novelty Welfare Society).
The other shelter homes are government run Observation Home in Araria, Sewa Kutir run by Om Sai Foundation in Muzaffarpur, Kaushal Kutir run by Don Bosco Tech Society in Patna and Sewa Kutir run by Metta Buddha Trust in Gaya.
The boys' home identified by TISS in this category are in Motihari run by Nirdesh, in Bhagalpur by Rupam Pragati Samaj Samiti, in Munger by Panaah and in Gaya run by DORD. Three specialized adoption agencies – Patna's Nari Gunjan, Madhubani's RVESK and Kaimur's Gyan Bharti – are also in the "grave concerns" category. The report highlights rampant physical and sexual harassment, corporal punishment, neglect and humiliation in "institutions of all categories".
Elaborating on the living conditions of inmates in boys' homes, the report says: "After dinner, the boys are locked up inside their wards and have no access to toilets throughout the night. We found plastic bottles with urine in them." The inmates of Muzaffarpur Sewa Kutir run by Om Sai Foundation showed bruises and broken bones to TISS members. They alleged sexual assault on them and thrashing on a daily basis by the caretakers.
The report said that many inmates lodged in short stay homes were girls who were picked up by police from eateries "while they were out with their male friends, and sent to these homes for protection".
Courtesy: TNN