Small girls are being raped in UP, Bihar but PM Modi is silent: Rahul Gandhi
2 min read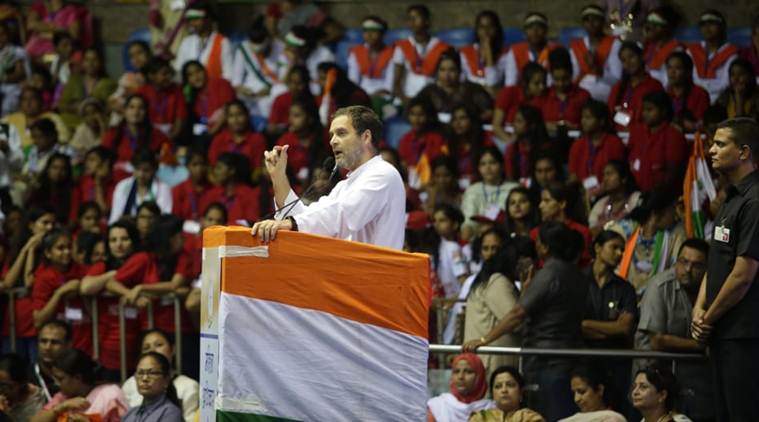 Accusing the BJP of stalling Women's Reservation Bill in Parliament, Congress chief Rahul Gandhi Tuesday said the saffron party thinks "only men can run the country". "BJP's parent organisation RSS has never allowed any women in its history. It does not believe in giving space to women. If it is anywhere that the women belong there, it is at the back. The biggest difference between our ideology in the way we treat women," Gandhi said addressing Mahila Adhikar Sammelan in New Delhi.
Gandhi questioned Prime Minister Modi's silence on the Muzaffarpur and Deoria shelter home abuse cases. "The PM will talk about multiple things, but when women are attacked, small girls are raped in Bihar and Uttar Pradesh, he stays mum. The daughter of India need to be saved from the BJP MLAs," he said.
Gandhi who had earlier written a letter to PM Modi seeking support to pass the Women's Reservation Bill through Parliament said the Congress will extend its full support if it is brought in the House. "If not we will pass it when we come to power. I want to state it clearly, our goal is to have 50 per cent women in the Congress party. We are going to promote you, we are going to push you and bring you to the forefront. Our goal is to engage women in leadership on every level," Gandhi said.
Reflecting on the work undertaken by women Congress leaders like Sheila Dikshit, Gandhi added, "We need women at every level of leadership within and outside the Congress party. If a man and a woman are equally capable of doing a job, I promise you that the Congress will promote the women to the forefront." He also released a special flag for women that "represents the spirit and objective of the Mahila Congress."
Hitting out at Modi government for attacking the institutions of India, Gandhi said, "The democratic institutions of the country — Election Commission, Judiciary and media organisations –are under attack by the RSS and the BJP. It is the duty of the Congress party, and particularly women in the party, to defend them."
Earlier in the day, Gandhi, during the Congress Parliamentary Party Meet, said forces of hate, division and violence are trampling upon the Constitution and the people of India want the Congress party and its allies to replace the Narendra Modi government in the upcoming 2019 general elections.
Courtesy: Express Web Desk