States' fiscal position deteriorates in FY18 on widening revenue deficit: Care Ratings report
3 min read
The fiscal position of states deteriorated in 2017-18 over 2016-17 as revenue deficit for most states widened whereas states with revenue surplus witnessed a decline in their surplus, according to a Care Ratings report.
Stating that the states have increased their focus on asset creation, which is crucial for future growth and development, it said that 14 out of 24 states analysed in the report witnessed an increase in expenditure towards asset creation in FY18.
As states have been termed to be treading on the fiscal consolidation path, the report pointed that the gross fiscal deficit to gross state domestic product (GFD to GSDP) ratio has been within the 3 per cent norm for most states. Though most states managed to keep it under 3.5 per cent, some that breached it include Punjab, Himachal Pradesh, Jammu & Kashmir, Nagaland and Bihar.
"In FY17, 10 states had a fiscal deficit ratio of over 3 per cent (including those allowed additional flexibility in terms of spending). In FY18, 14 states exceeded the 3 per cent mark, of which five were higher than 3.5 per cent, which is a concern," said the report. However, the report pointed that majority of the states adhered to the fiscal deficit norms stipulated by the Finance Commission.
On a consolidated basis, the states have seen a rise in their revenue expenditure. Bihar, Odisha, Chhattisgarh and Uttar Pradesh, which had a revenue surplus in FY17, saw them narrow down in FY18 (as per the revised estimates). Assam, Punjab, Rajasthan, Tamil Nadu and Maharashtra that had registered revenue deficit in FY17, saw it widen in FY18. J&K, Jharkhand and Gujarat improved on their revenue surplus. States like Andhra Pradesh, Kerala, West Bengal and Haryana reduced their revenue deficit.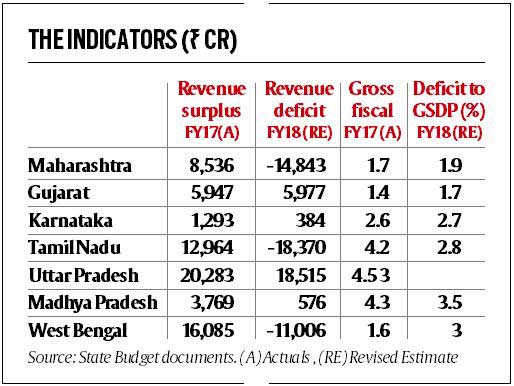 As per the 14th Finance Commission, all states are required to maintain a zero revenue deficit. The prevalence of revenue deficits is indicative of the fiscal pressure faced by 10 states that recorded revenue deficit in FY18.
Most states managed to keep their debt levels (as a percentage of GSDP) stable. While 11 out of 19 states maintained their debt below the stipulated norm of 25 per cent of GSDP in FY18, 10 out of 21 states have their interest to revenue receipts ratio below the 10 per cent norm. Punjab and West Bengal are among the most indebted states as over 20 per cent of their revenue receipts are spent towards interest payments which pressurises their ability to spend on development purposes. The interest burden for Punjab, West Bengal and Tamil Nadu accounted for over 15 per cent of their revenues.
However, in absolute terms, Maharashtra and Uttar Pradesh have the highest debt levels at over Rs 4 lakh crore. On the other hand, Karnataka, Chhattisgarh, Odisha and Telangana have efficiently managed their debt obligations and have low debt to GSDP and interest to revenue receipt ratios i.e. within the stipulated norm of 25 per cent and 10 per cent, respectively.
While capital expenditure for the government is important and adds to the capital stock of the regional economy and provides a foundation for future growth and development, the report says that the consolidated expenditure by states towards asset creation continues to be under 15 per cent of their total expenditure. While the expenditure incurred towards capital projects by states at the consolidated level stood stable at 14.2 per cent of total expenditure, it said that at the state level, there has been a focus on creation of capital assets. Higher expenditure towards capital outlay has been incurred by 14 out of 24 states in FY18 from a year ago. 10 states saw their capital outlay as a percentage of total expenditure decline. While Goa had the highest allocation towards asset creation at 27 per cent of its expenditure, Punjab and Chhattisgarh have the lowest at 4 per cent of total expenditure.
Courtesy: ENS