"Don't Have Guts": Tejashwi Yadav Takes On Nitish Kumar In Bihar Bypoll Rally
2 min read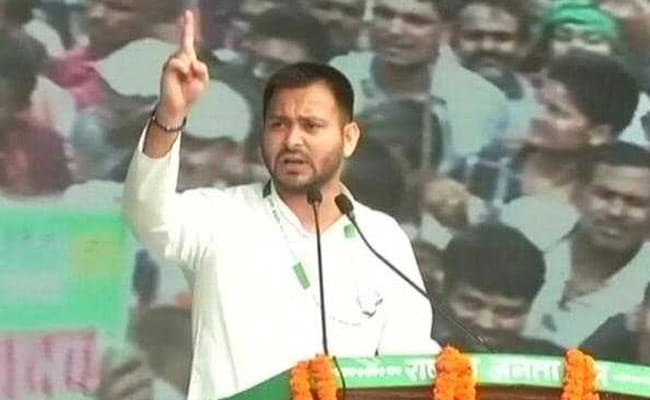 Araria: RJD leader Tejashwi Yadav today alleged that Bihar Chief Minister Nitish Kumar had capitulated before the BJP-RSS combine and was no longer able to rein in those involved in communal incidents.
Addressing a rally at Araria in Bihar, as part of campaign for by-poll to Jokihat assembly seat due next week, Mr Yadav alleged that the JD(U) president could not act against a "BJP novice", in stark contrast with RJD supremo Lalu Prasad who had halted LK Adavni's "rath yatra" in the 1990s.
"A BJP novice was named in the communal riots that took place in Bhagalpur a few months ago. Nitish Kumar could not get him arrested. The accused ultimately surrendered. Mark the contrast with Lalu, who had stopped a heavyweight like Advani", Mr Yadav – who is the leader of the opposition in the state assembly – said without mentioning Union Minister Ashwini Kumar Choubey and his son Arijit Shashwat by name.
Arijit Shashwat was among those named in an FIR lodged at Nathnagar police station of Bhagalpur in March this year, after clashes broke out between members of two communities shortly after a procession led by the young BJP leader had passed through the area.
Arijit Shashwat had surrendered before the police in Patna a week after arrest warrant was issued against him by a court in Bhagalpur. He is currently out on bail.
"Nitish Kumar is now just a mask. Bihar is now being ruled, through proxy, by Prime Minister Narendra Modi and RSS chief Mohan Bhagwat. And our Chief Minister does not have the guts to look at any BJP leader in the eye", Mr Yadav alleged.
Corruption cases lodged against the RJD heir apparent, who was then the Deputy Chief Minister, had led to Mr Kumar's exit from the Grand Alliance comprising JD(U), RJD and Congress. He formed a government with the BJP later.
"There is no party left in Bihar with which Nitish Kumar has not allied at some point of time. He talks about vikas (development) but brings about vinash (destruction) by repeatedly committing janadesh ka apman", Mr Yadav alleged.
Claiming that the RJD was set to win the Jokihat seat with a huge margin, Mr Yadav alleged, using cricketing analogy, "after the by-poll, Nitish Kumar will be like a captain who is not able to find a place among the playing eleven".
RJD's Shahnawaz Alam and JD(U)'s Murshid Alam are locked in a straight contest in the assembly segment.
"We RJD members are like tigers. Jackals of the BJP can not scare us", Mr Yadav said.
Courtesy: PTI