Running behind target, Bihar plans incentives to build houses for poor
2 min read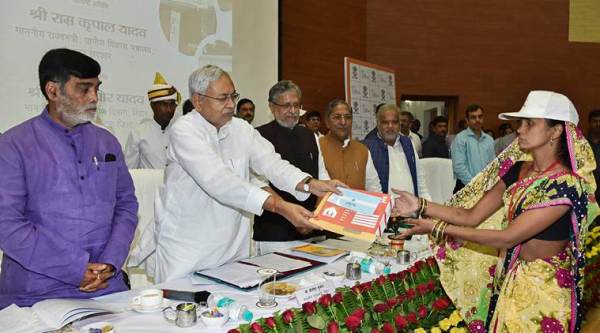 Bihar Chief Minister Nitish Kumar on Friday said the state government will offer incentives for meeting the deadline and the target of constructing houses under the Centre's ambitious Pradhan Mantri Awas Yojana (PMAY) scheme. To get the scheme running, he directed the state Rural Development Department to give him a complete list of beneficiaries before September 30.
Nitish said the first two instalments for construction of 6.61 lakh and 3.10 lakh houses, respectively, have been disbursed. About 50,000 PMAY houses have been constructed so far, much below the target set for the state.
The state government has shown urgency after being warned by the Centre of not being given a fresh target for 2018-19, as the state government was able to construct only 32,000 houses by March 31. Bihar has been given a target of constructing 11.76 lakh PMAY-Gramin (PMAY-G) houses in this fiscal.
The state government had blamed poor progress in the construction of houses to non-availability of sand due to a change in its policy to discourage illegal sand mining. The Centre wants to meet PMAY-G target of constructing 1 crore houses by March 2019.
On Friday, at a meeting, called by the state Rural Development Department — the executing agency for PMAY-G scheme — Nitish handed over keys to five beneficiaries whose houses are ready. Union Minister of State for Rural Development Ram Kripal Yadav was present at the event.
Without referring to the delay in meeting the target, Nitish said: "We need a list of the poor and needy families before September 30. Even if the Centre does not approve it, we can still construct new houses under the existing 60:40 state-Centre quota… Bihar needs much more houses than targeted to be constructed under PMAY-G."
He said that 8.70 lakh beneficiaries have been registered so far, and out of that construction of 7.55 lakh houses has been sanctioned. About 50,000 houses have been constructed so far, he said.
Union MoS Yadav said: "Bihar has not been able to meet PMAY-G target even as states such as UP and Chhattisgarh have shown a big jump. We are now happy that the Bihar CM…has taken serious efforts to speed up the scheme."
Courtesy: Indian Express