Willing To Face Consequences Of Actions: Nitish Kumar Defends Prohibition
3 min read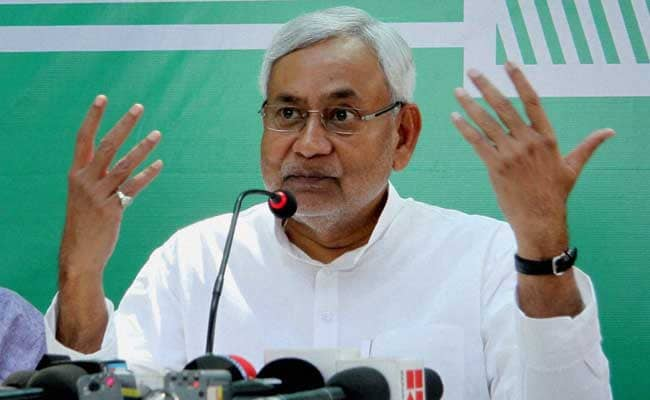 Patna: Bihar's tough prohibition law could be tweaked soon to address concerns that government officials abused its provisions, Chief Minister Nitish Kumar said on Tuesday, declaring that the government had discussing a bunch of changes that could be made to the law in consultation with top lawyer Gopal Subramaniam.
Mr Kumar did not elaborate on the changes that he had in mind.
Sources, however, told NDTV that an important change that the state government was considering is to make most offences bailable unless the suspect is a repeat offender.
Nitish Kumar has faced much criticism from the opposition and civil rights groups that pointed to the large number of people arrested in the state for violating the ban of possessing or consuming alcohol.
Over the last 25 months, there have been isolated cases when relatives of powerful politicians have been charged with violations. Like Rahul, the 25-year-old son of Hari Manjhi, the BJP parliamentarian from Gaya.
But such cases are few and far between.
Opposition parties and others have contended that most people arrested under this law were among Bihar's poorest, those who were not able to bribe their way out of the police case. There have also been complaints that the police and excise department do also invoke the law to frame innocents.
A case under the prohibition law ensures that the suspect will have to spend time in jail because the offence has been classified as non-bailable. This means that the suspect cannot seek bail as a matter of right but a court gets to exercise its discretion.
According to official statistics, 140,000 people have been arrested under this law in the last 25 months by the police and excise department teams across the case. That means, on an average, a person is arrested every 10 minutes for flouting this law. Or 184 people arrested every day.
Chief Minister Nitish Kumar acknowledged that there had been complaints of misuse of the prohibition law and allegations of involvement of those in the government machinery. "This problem too would be solved after a review being carried out," Mr Kumar said.
But Mr Kumar signalled that this is how far he was willing to go as far as he was willing to go.
"Yes, people are criticising, but I am willing to face all the criticism and consequences of my actions," Mr Kumar said at an event organised by his party Janata Dal United, or JD(U), on Tuesday.
It was a key promise he made to women voters who were seen to have played an important role in his winning a third term in November 2015, then part of a grand alliance with Lalu Yadav's Rashtriya Janata Dal and the Congress.
The RJD's Tejashwi Yadav, who was Mr Kumar's deputy when the prohibition law was enacted in April 2016, has since then disowned the law that he insists was a "farce".
In an apparent counter to barbs that the alcohol ban law had led to victimisation of the poor, Mr Kumar said they were the biggest beneficiaries of prohibition too.
He also suggested that he knew there were bootleggers who home delivered alcohol to people who could afford to pay. But the chief minister appeared to take satisfaction at the fact that they were only drinking at home and were probably, too worried about getting caught to enjoy their drink.
Courtesy: NDTV